NOTICE REGARDING CELLPHONES AND AUDIO DEVICES
On April 3rd 2017, a new policy was implemented, where cell phones are collected and stored in a lock pouch upon entering the Justice Juanita Kidd Stout Center for Criminal Justice. ALL JURORS WILL BE EXEMPT FROM SUBMITTING THEIR PHONES, AS LONG AS THEY HAVE PROOF OF THEIR SERVICE (IE. Summons, Postcard, letter from the jury staff). Your phone does not have to be secured while you are in the Stout Center. However, restrictions will apply once you are assigned to a courtroom. PLEASE BRING YOUR PROOF WITH YOU.
Jury Service is one of the highest duties of citizenship and it is an essential element of our democratic society. Citizens selected as jurors participate in a decision-making process in order to reach a verdict or decision of guilt or innocence in both civil and criminal cases. Service as a juror provides an interesting opportunity for citizens to learn more about our system of justice and how it works. Nearly 100,000 citizens are called to duty in Philadelphia each year.
Frequently Asked Questions About Jury Service
SUMMONS
Each year, summonses are mailed to Philadelphia residents using a combined list of all registered voters and adult licensed drivers. If you receive a summons, you are required by law to complete the questionnaire portion (by mail or online), with all questions truthfully answered, and return it the Jury Commission within five days. If you fail to respond to your Jury Summons, the law provides for the imposition of a fine not to exceed $500 and imprisonment not to exceed 10 days. The completed questionnaire should be returned to the Jury Selection Commission, , 1301 Filbert Street, Room 204, Philadelphia, PA 19107.
In order to qualify for jury service, you must meet the following requirements:
You must be able to read, write, and speak the English language.
You must not have been convicted of a crime punishable by imprisonment for more than one year.
You must be physically and mentally able to perform the functions of a juror.
You must be a United States citizen at the time you are summoned.
You must be a Philadelphia resident and at least 18 years of age.
If you are not mentally or physically able to serve as a juror, provide medical certification in the remarks section of the questionnaire. If you are requesting to be excused for a job related reason, your employer should certify the hardship in the remarks section.
If you are no longer a resident of the City and County of Philadelphia, please indicate your new address in the remarks section. You are not be required to report.
POSTPONEMENT AND HARDSHIP:
If you wish to request a postponement or need to be excused from jury service for an extreme hardship, you must indicate the reason for your request in the remarks section of your summons. You should also indicate a date within the next 4-5 months you will be available to serve. If you are 75 years or older, you are invited to serve, but not required. To be excused, please put your request in the "Remarks" section and return.
Postponements can be done online after completing the questionnaire. Jurors may select a new date of their choice, with some limitations. Hardship request cannot be done online and must be done by mail.
Remember, the completed questionnaire with this information in the remarks section should be returned within five days of receipt to the Jury Selection Commission, , Room 204, Philadelphia, PA 19107. You may also fax the document to 215-683-7183.
If you have already completed and returned your questionnaire and find you need to request a postponement, call the Commission at 215-683-7170, and use the interactive voice response system, Option 4, to request your postponement. You will receive step by step instructions.
When you call the Commission, you should have your nine-digit ID number available. That number appears in a yellow highlighted box on your summons.
You may check the status of a postponement or hardship request by calling the Commission at 215-683-7170 and choosing Option 4.
REPORTING FOR JURY DUTY
The number of jurors needed for jury duty changes daily. Between 5 PM and 12 midnight the night before you are scheduled to report, you should call the Jury Commission at 215-683-7170 for special reporting instructions. When you call, select Option 2, Juror Call-In. Remember, you should have your nine-digit Participant# available. Your Participant# appears in a yellow highlighted box on your summons.
You will be told whether you should or should not report for service. If you are told you are not required to appear, your name will be removed from the mailing list for another year. If you are told not to report for jury duty but you have made special arrangements to appear, please feel free to come in.
Read your summons carefully. On the day you report, your summons instructs you to report at 8:15 AM to either City Hall or The Juanita Kidd Stout Center for Criminal Justice. You must bring your original summons with you when you report for service. Do not give your original summons to your employer. Proof of service will be attached to your jury fee check and given to you at the end of the day. Please remember, weapons, including pen knives, cutting instruments, pepper gas and mace are not permitted in the building. These items will be confiscated and not returned. Cellular phones are permitted in the Criminal Justice Center. Aluminum cans and glass bottles are NOT allowed.
The Court encourages citizens to take advantage of public transportation.
Visit the for information on how to arrive at the The Juanita Kidd Stout Center for Criminal Justice via public transportation.
Visit to search for the location of the closest parking lots in the area of the The Juanita Kidd Stout Center for Criminal Justice.

In accordance with the Americans with Disabilities Act, any person with a disability needing special help to serve on jury duty should contact the Jury Information Line at 215-683-7170 and speak to a jury representative.
JURY SERVICE IN THE COURTHOUSE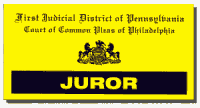 Jury panels are assembled throughout the day in the Jury Assembly Rooms in and the . Before you are assembled into panels, you will view an orientation video, complete a questionnaire and be assigned a badge and juror number.
After you are placed on a panel, you will be escorted to a courtroom for questioning by the judge, attorneys, and/or court staff. This is called the voir dire process. Questions are asked to determine if you are well suited to sit as a juror for the case in question. Jurors not selected will be directed back to the Jury Assembly Room for possible reassignment to another courtroom.
For jurors in the Assembly Room, a lunch period is given between 12 Noon and 1:30 PM. For those jurors who are in a courtroom, a lunch break is determined by the presiding judge.
By 4:30, jurors in the Assembly Room who have not been assigned to a case and those who have not been instructed to report back for a second day of questioning, are given a jury fee check and dismissed. Currently, the fee paid to jurors is $9.00 for each of the first three days and $25.00 for each following day. Proof of completed service is attached to the jury fee check. Those who are selected to serve on a panel are paid when their service is completed.
Juror Attendance Fees are Reportable Income
Juror attendance fees are considered to be income and should be reported to the Internal Revenue Service on your tax form. The Court will report all jurors who have earned $600.00 or more annually in jury service fees on IRS Form 1099-MISC. If you receive at least $600.00 in jury service fees annually, the Court must send you a copy of the IRS Form 1099-MISC which reflects the total amount of compensation paid (not travel or parking reimbursements). However, even if you have earned less than $600.00 in jury attendance fees, this income should be reported on your tax form and the Court is not required to provide a statement of juror attendance or W-2 Form at the end of the calendar year; therefore you should keep a record of the days your report for jury service.
Follow Us