Philadelphia Family Courthouse Therapy Dog Program
Beginning in February, 2018, Philadelphia Family Court (PFC) began utilizing therapy dogs in the courthouse. Their responsibilities are to provide psychological therapy to individuals other than their handlers. These dogs have stable temperaments and friendly, easy-going personalities. Unlike service dogs, therapy dogs are encouraged to interact with a variety of people while they are on-duty including petting the therapy dog. There are tangible benefits of utilizing therapy dogs because the less anxious people are about being in a courtroom setting the better the information the judge will get about making the difficult decisions they have to make.
PFC has entered into an arrangement with Comfort Caring Canines (CCC) Therapy Dogs, Inc. Dogs and their handlers are volunteers who are trained in therapy assistance by CCC.
Anyone interested in volunteering to learn more about the therapy dog program should visit Comfort Caring Canines website at www.comfortcaringcanines.org or email evaluation@comfortcaringcanines.org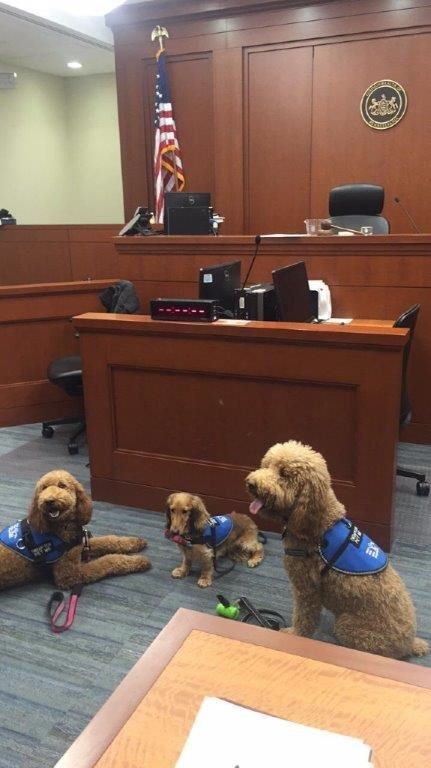 Documents in Adobe PDF format.
The latest version of the Adobe Acrobat Reader software is required to view, print and search PDF documents.
Please download this free software from the Adobe Acrobat Web site.
Please note that the Philadelphia Courts does not provide Technical Support for Acrobat Reader Software. For technical support, please contact Adobe.
Contact
Juvenile Court Branch
Family Division
215 686-4000
215 686-8353
Business Hours
Monday-Friday: 8am to 5pm
Saturday: Closed
Sunday: Closed